Pennsylvania Free Enterprise Week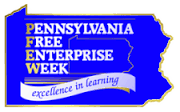 Pennsylvania Free Enterprise Week (PFEW) is a one-of-a-kind summer program that offers in-coming high school juniors and seniors a unique and challenging opportunity to see what it is like to run their own business.

Participants will make up an "imaginary" management team where they will learn first-hand about the Free Enterprise System. Their task - turn their failing company into a financial success! They will develop their own marketing strategies, design a website and in essence, make all of the decisions that are demanded of real life company executives. All work and no fun--NO WAY! PFEW provides students with a chance like no other - to experience what it is like to live on a college campus.

Click HERE for more information.

This opportunity is not an Owen J Roberts School District-sponsored event. This information is provided solely as a service from the Owen J. Roberts High School Gifted Education Support Staff. If enrolling, the student participant/student participant family will be responsible for all costs, planning and transportation associated with participation per the event's guidelines.