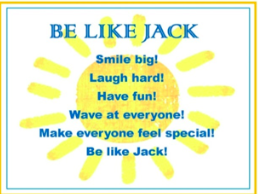 East Vincent Elem Shade Structure
East Vincent Elementary

Shade Structure

dedicated to Jack Rowley

Help build a shade structure for EV's playground in honor of Jack's memory.

Dear East Vincent Elementary families and friends,

You may remember during the last school year when the Rowley family lost their little boy, Jack. Jack, at age 5 years, passed away in his sleep due to complications from Epilepsy on Feb. 10, 2018.

Mr. Rowley and his wife are both teachers in OJRSD. Doug teaches gym at East Vincent Elementary while Jen is the music teacher at French Creek Elementary. The Rowley's having been a part of the OJR community for over two decades, many, many families have wanted to reach out and contribute in some way in remembrance of little Jack.

With the Rowley's input, the East Vincent PTA and the East Vincent Elementary faculty and staff decided to honor Jack by building a shade structure for the new EV school playground – Jack LOVED being outside. We spent time over the summer gathering lots of information from the district and collecting bids. Below are the details of the plan.

The East Vincent PTA is launching a fundraising effort in the OJR community to raise money for the shade structure. Additionally, we are seeking contributions from various local companies in the forms of services or monies to help decrease the overall cost of the project. To get the project going, we have broken the process into two phases. The goal is to break ground on Phase I by late June, 2019 – after school is out for the summer so that the playground remains accessible to the students throughout the school year. We currently have about $19,000; our goal is $62,000.

Would you like to be a part of creating this memorial project for Jack? We are reaching out to you to ask for your support. All contributions will be dedicated solely to the Jack Rowley Shade Structure. Donations by check (made payable to EV PTA – note shade structure), cash(send in an envelope marked:EV PTA Shade Structure), and Paypal (https://www.ojrsd.com/Page/6900) are all welcome!

Thank you for your consideration. The Rowley family and the East Vincent Elementary community truly appreciate your support in honoring Jack.

Warmest regards,

Kimberly Arp (East Vincent PTA President)

Your East Vincent Elementary Faculty/Staff and PTA

24'x40' pad site

Details of project

Materials required:

PHASE I

Existing utility location

Grading

Excavation and concrete footers

Steel erected

Concrete Slab

PHASE 2

Roof

Stone work around steel columns

Paint as needed

Dedication plaque

Adjancent lawn remediation

Furniture (picnic tables)

Please contact eastvincentpta@gmail.com

with any questions!