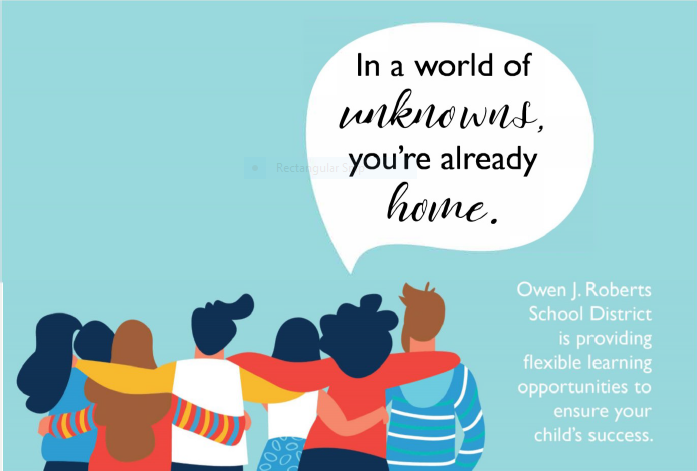 TECHNOLOGY

What kind of device do you recommend? We recommend a device such as an iPad, chromebook or laptop. While accessible on a phone, we do not recommend your student rely on a phone due to the screen size.

What technology specifications do we need? The Accelerate Education Program and Google Classroom operate through a web browser.

Do I have to remember different passwords and usernames? No. The OJR Cyber Academy will use a single-sign on with your student's OJR Google account.

What will teachers use for synchronous/live lessons? Teachers will use Google Meet.

If I currently have a borrowed chromebook, do we get to keep it? Yes, if your family still has a need and you cannot purchase a personal device, then you will keep the chromebook.

Will devices be provided for students who attend OJR Cyber Academy? The district is not presently in a position to accept technology requests. OJR has a limited number of devices available and we need to determine the number of students who will be attending in person as part of the blended learning model. Furthermore, we also must identify the needs of the larger school community. For example, families who are experiencing extreme hardship would be a priority.

OJR CYBER ACADEMY REGISTRATION

How/When can I sign up for Cyber Academy? Between now and August 10 by visiting HERE

Can students move between the Blended Plan and OJR Cyber Academy? If so, when and how often can we make changes? Of course! It is most helpful to switch at natural transition points such as the trimester change, but we can make accommodations for families who need flexibility.

How does the teacher assignment work? Some OJRSD teachers will be assigned as OJR Cyber Academy teachers. If students move from OJR Cyber Academy to the Blended Plan, they will have a new teacher and classmates at their home elementary school.

If school resumes to "normal" during the 2020-2021 school year, what happens to OJR Cyber Academy students?

They stay in the OJR Cyber Academy if you so choose, but their teacher may change due to shifting enrollment.

INSTRUCTION AND ASSESSMENT

Will synchronous/live instruction also be recorded for kids to go back and review? Yes

Will the instruction be synchronous (live) or asynchronous (recorded)? Both

If school resumes to normal during the 2020-2021 school year, what happens to OJR Cyber Academy students? If school returns to "normal", the District is committed to offering a cyber program for the entire school year. Parents would have the opportunity to have their students continue in the cyber program or transition to brick and mortar in-person instruction.

What does "teacher-facilitated" mean? Teacher facilitated means that the teacher is providing synchronous/live instruction. The instruction will be recorded for students who may need to view or review at a later time.

How will my child receive feedback from the OJR Cyber teachers on the assignments that he or she completes? Feedback will be provided through the Accelerate Learning program as well as through teacher-student conferencing.

If my child receives special education or gifted services and support, how will these be delivered in a cyber classroom? The individual case manager will work directly with you and your child to develop a plan that supports his or her needs.

During independent time will kids be monitored or will they need to report back with the teacher? Students will submit work and report back if asked to do so by the teacher.

How will the teachers evaluate the students, both initially and during the school year? Administration and teacher leaders continue to develop assessment and grading procedures and protocols at this time.

How will OJR Cyber Academy and OJR Blended Learning Plan maintain a similar pace? Our goal is to keep the same pace for both programs. Curriculum supervisors, Academic Coaches, and teacher leaders are working through the summer months to crosswalk the two teaching and learning options.

ACCELERATE EDUCATION AND OTHER CURRICULAR PROGRAMMING

Does Accelerate Education come with its own lessons or will the teachers be creating the lessons for Accelerate Education? Accelerate Education comes with pre-created lessons, and it has the capability for customization to fit with OJRSD expectations. We plan to use a combination of the two, teacher-created and Acceleration Education provided.

Will books be sent home, science kits, etc.? Specific curriculum Items needed may be provided based on the content. Students in grades K-3 will receive an Accelerate Education workbook to complement online instruction.

What exactly is "Accelerate Education"? Information about the Accelerate Education platform can be found on the OJRSD Website.

STUDENT SUPPORTS

Will my child still have access to school supports such as the guidance counselor? Yes, since students in the Cyber Academy are considered dually enrolled in both their OJR school and the Cyber Academy, they will have access to school-based services like guidance counselors.

How would students who have a GIEP receive services? They would meet with an Academically Talented Program (ATP) teacher virtually.

How will OJR Cyber Academy affect my child's IEP? Students IEP accommodations, goals, and specially designed instructions will be supported in the blended model and OJR Cyber Academy

SCHEDULE

Since "schedule developed for each grade level", what happens to students who take classes from different grade levels (i.e. advanced math)? The schedule design will take into account the needs of students who access intervention, enrichment, and acceleration

Can my child complete his or her assignments outside of the typical school day? Students are encouraged to participate in all of the lessons and activities that are prescribed by the OJR cyber teacher. However, out of an abundance of flexibility, students may complete and submit assignments outside of the typical school day.

Can my child work at his or her own pace? In some ways, yes. The OJR Cyber Academy teacher will differentiate instruction to meet the individual needs of students.

What would a typical day look like for a kindergarten student? The District offers a half-day kindergarten program. Therefore, a kindergarten student enrolled in the Cyber Academy would be engaged in learning activities that are designed for a half day program.

What is the first day of school for OJR Cyber Academy? Tuesday, September 8

Does OJR Cyber Academy have teacher facilitated instruction on Wednesdays or is it similar to the blended model? Yes, there will be instruction on Wednesdays.

Will there be morning and afternoon OJR Cyber Academy kindergarten sessions? Yes

Would there be Kindergarten AM or PM options? These are assigned and not an option. Please contact your school principal for more information.

What time are the synchronous/live class meetings? This could vary depending on the schedule for the day, but there will be a morning meeting and an afternoon meeting.

Will the teachers be available during independent time? This will be dependent on the schedule. There will be time for support.

Is this OJR Cyber Academy day shorter than a typical in-person school day? On most days,yes.

Are students expected to be constantly on-line from 8:30 to 3:10? No, online expectations are based on the schedule.

Will the schedule be predictable enough to plan an at-home lunch? Yes

CLASS SIZE

What will the class size be for the OJR Cyber Academy? OJR Cyber Academy will have class sizes similar to in-person classes pre-COVID-19.