Do you have students who
are
l
ooking for an extra challenge and want to learn how to use mathematical thinking to
code
? Have them try the
Anna and Elsa challenge
. "They'll use code to join Anna and Elsa as they explore the magic and beauty of ice. They will create snowflakes and patterns as they ice-skate and make a winter wonderland that they can then share with their friends! (code.org)"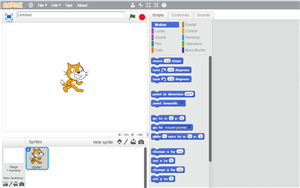 East Vincent's fifth and sixth graders will be taking their programming skills to the next level using
Scratch
. They will work independently or in teams of up to three students to code their own computer-based interactive game. Students may choose to enter the 2015 East Vincent Scratch Programming contest. The team of judges will select the most creative, fun, and innovative game as the Programming Champion.
"Scratch is a free educational programming language that was developed by a group at the Massachusetts Institute of Technology (MIT) with over 4 million registered users. (Scratch Wiki)"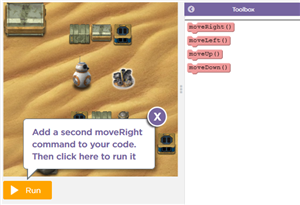 Our 5th and 6th grade
rs may a
lso choose
to complete the Minecraft
or Starwar
s tutorials (see a
bove). Students who want an extra challenge a
nd have several
years experience with the Hour of Co
de
are encour
aged to try the Star
Wars tutorial in Java Script!
Kick-off Coding Classes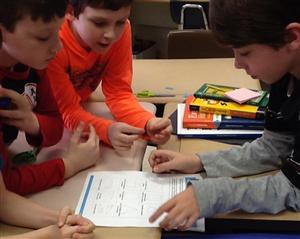 This year, our academic coach, Mrs. Sarkar, and our gifted support teacher, Miss Mitton, will be co-teaching a Kick-off Coding Class with the classroom teachers. Some grades will be doing unplugged programming activities to further explore the world of computational thinking. Other grades will be completed guided online programming activities in preparation for the 2015 Scratch Programming Contest. Check back soon for more information!

Daily Announcement and Knowledge Contests
Each day during the Hour of Code, East Vincent students will read programming related PSAs during the morning announcements. This will include a question of the day. Students building-wide will be invited to enter their answers to the question by placing their slip of paper in the Code box in the main lobby. Each day, one winner (selected at random from those who submit a correct answer) will be announced, and the clever student will receive a small reward.
6th Grade Mentors
Our sixth grade students will once again be mentoring in the younger classes. Last year, they did an excellent job explaining the activities to the students, working side-by-side to lead younger learners through the problem solving process, and providing positive encouragement to all. We are looking forward to their assistance again this year!