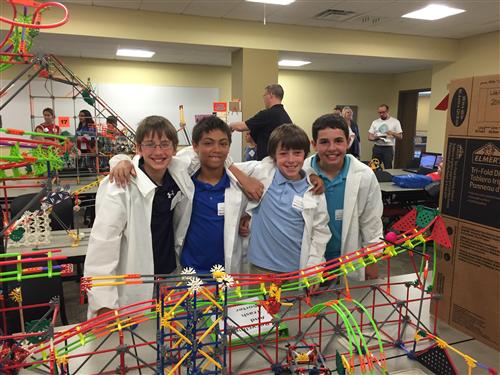 This year, East Vincent will once again be offering the chance to participate in the STEM Design Challenge to interested sixth grade students. Teams will be provided with guidance by Mrs. Garman or Miss Mitton.
After school practices:
Thursdays, 3:15 – 4:15 pm.
Pick-up is at the main office lobby.
Teams will also be expected to meet outside of
school and official practice times in order to be
ready for the East Vincent STEM Design Challenge
tournament, which will be held during the school day on February 17th.
The judges at the tournament will select one sixth grade team to represent East Vincent Elementary at the Chester County STEM Design Challenge (grades 6 - 8 division) on March 4, 2016.
Interested students should have the following qualifications:
~Dedicated
~Creative
~Hardworking
~Completes assignments on time
~Strong public speaking/presentation skills
~Able to work well with peers
~Accepts and responds well to suggestions for improvement
Each participating student MUST have their parents register the student for the STEM Design Challenge by Monday, January 4, 2016. Registration will close at 11:59 PM. Register your student here.
Check out last year's Pennsylvania State Champions, The Lab Rats, as they demonstrate their project to the judges. Keep in mind, last year's challenge was completely different from the 2016 Challenge.
Three of the teams from the East Vincent STEM Design Challenge Tournament decided to combine all their projects into one long K'Nex contraption after the season was over. Check it out!
TEAMS:
Join our
Google Classroom
to get access to extra resources. You'll need your ojrsd.net account information and this class code: k2p6d9t