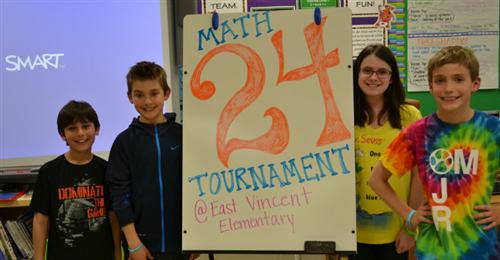 2015 Results
On Friday, April 10, 2015, sixty-seven fourth and fifth grade students participated in the first annual East Vincent Math 24 Tournament. It was truly a wonderful day full of math enthusiasm, risk taking, and pattern discovery. It was amazing to hear the students sharing multiple ways to solve the cards. They were celebrating how differently their brains process the challenges, learning strategies from one another, and celebrating one anothers' successes as they occurred. The positive sportsmanship among the students was phenomenal!
Sixteen of the students earned a spot in round three, the semi-finals. The speed with which they found solutions was astounding! From there, 4 students moved on to the final match, and an additional 4 students participated in the alternate finals. The four finalists have qualified to advance to the County Competition on May 1, 2015 at the Chester County Intermediate Unit. Please join us in congratulating the following East Vincent Mathematicians!
Finalists – advancing to the Chester County Competition
~Ethan Farkouh (first place)
~Charlie Kullen (second place)
~Aidan Zepp (third place)
~Kira Chinici (fourth place)
Alternates
~Lauren Razewski
~Aaron Kirby
~Andrew Blackledge
~Aidan Zottola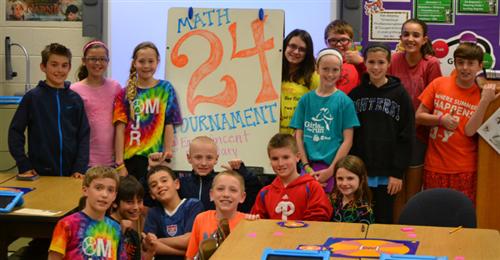 Additional Semi-finalists:
~Alyssa Greiner
~Grayson Kurth
~Tyler Rossi
~Morgan Weaver
~Ben Hailey
~Gracyn Smith
~Kaylie Ormerod
~Charlotte Camp
A special thank you goes out to all the teachers, volunteers, and administrators who helped proctor the event. Additionally, our sixth grade leaders did a fantastic job serving as time keepers, role models, and encouragers. They also created a video tutorial for the students in preparation for the event. We could not have hosted today's tournament without them!
What an awesome day!