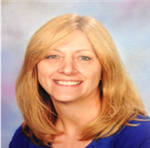 Phone: 610-469-5178
Email:
Degrees and Certifications:
Mrs.

Cheryl Burinsky

Hello Parents and Students,

Thanks for visiting my page to learn more about me and what I do at French Creek! Many times parents wonder about the IST process and how it works. Hopefully this page will help to explain it. I'm a teacher, but Instead of teaching one grade level, I work with students in every grade from kindergarten through 6th grade. That means I have over 500 students!

My position is called IST Facilitator. IST stands for Instructional Support Team. Instructional Support is a process to maximize student success. It is a positive, success-oriented process which uses specific assessment and intervention techniques to help students find success in all areas of education. The process consists of a team working together to identify the student's individual strengths and needs. The team works to set goals and develop a plan to achieve those goals. The Instructional Support Team includes administrators, classroom teachers, therapists, and parents who work along with me to provide needed support. Sometimes students are included in our team meetings, too!

The Instructional Support Teacher provides support to parents, teachers, and students. Once a formal "Request for Instructional Support Team Collaboration" has been made, the Instructional Support teacher works with the referring teacher, parents, and student to implement the process.
The duties of the Instructional Support Teacher may include:
data collection and maintenance of records

performing classroom observations

conducting interviews with parents, teachers, and students

establishing meeting schedules

monitoring the intervention plan

coordinating efforts of teachers, parents, and outside agencies

coordinating referrals for available services
What Are the Benefits of Instructional Support?
Identifies students in need of academic, emotional and/or behavioral support.

Provides initial and timely assistance to teachers, students, and parents.

Uses a team approach that always encourages parent participation.

Implements strategies to assist students.

Monitors the progress of the student.