Thank You for a Successful Science Season
Thank you - we really appreciate the support!
The East Coventry Science Research Competition has been a wonderful tradition for many years. This celebration of science in our schools has grown into a community event that connects the real world with the classroom learning. There were many changes this year, but we all worked together to show everyone that East Coventry puts the S in STEM! (Science, Technology, Engineering, and Math)
All of the students who submitted a project for the competition had a chance to meet with the judges and further explain their project. The students did a fantastic job. Our judges were so impressed with the thoughtfulness and planning involved in the projects. The names of the students who are recommended to go on to the next level of competition will be announced later this week.
PLEASE COME AND SEE THE PROJECTS! Our open house for families to stop by and see the projects will be Thursday, January 17th from 4:30-6:00PM. This opportunity is available for all families whether your children participated or not. All of the projects in the competition will be on display.
All students who participated will be treated to a celebration later this week during the school day. At that time, students will receive certificates for participation.
A special "thanks" goes to first time Science Research Coordinator and EC teacher, Mrs. Kate Hartenstine.
Thank you to all parents who encouraged their children to participate in the competition.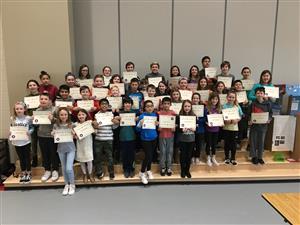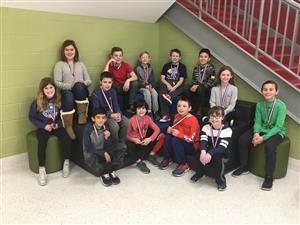 The following students projects will be going on to the Chester County Research Competition being held in March, 2018:
4th Grade-
Tyler Page
Graham Burrell
Vikram Rupani
Michael DeSantiago
Kellen Derban
5th Grade-
Violet Rosencrance
Quinn Littlewood
Nola Herbic
Rory Harmer
6th Grade -
Johnny Pellechia
Torin Whitten
Kate Derman
Ethan Gensler
Brenna Horger