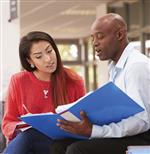 The Free Application for Federal Student Aid (FAFSA®) is now open for seniors, and the College Board Opportunity Scholarships program is here to support your school's efforts with free FAFSA assistance and scholarships for completing the FAFSA.

Wyatt, FAFSA Assistance Chatbot
College Board has partnered with Benefits Data Trust—a national nonprofit—to connect Opportunity Scholarship participants with Wyatt℠, a free FAFSA-assistance chatbot that answers questions via text message. Your students can receive around-the-clock help from Wyatt to ensure that frequently asked questions get answered quickly. All seniors can now sign up for Wyatt using the link at the top of the Opportunity Scholarships homepage.

Watch the video below to get help completing the FAFSA.