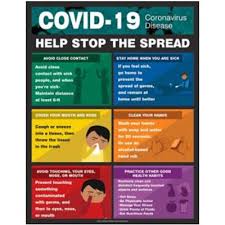 COVID-19 is a Pandemic in our community. The Centers of Disease Control and Prevention (CDC) define the symptoms of COVID-19 as follows.

COVID-19 symptoms can include:

fever
cough
difficulty breathing
Loss or change in taste or smell
sore throat
runny or stuffy nose
body aches
headache
chills
feeling tired
sometimes vomiting and diarrhea (more common in children than adults).
some people with the COVID-19 will not have a fever

The CDC explains that people with COVID-19 may be able to infect others from 2 days before getting sick to up to 10 days after. Severely ill people or young children may be able to spread COVID-19 longer, especially if they still have symptoms. They recommend that you keep your child home from school for at least 10 days if they have symptoms or get them tested for COVID-19. If the COVID-19 test is negative they can return once the fever is gone for 24 hours. (The fever should be gone without the use of a fever-reducing medicine.) A fever is defined as 99.5°F with a temporal thermometer and 100.4°F (37.8°C) or higher. with an oral thermometer. Diarrhea and vomiting also apply to this 24 hour guideline.

In an attempt to control the spread of illness in our school, we are asking that you keep your children home if you suspect the any illness and seek medical attention, especially if there have been diagnosed cases in your homes or contact in the community. Please indicate the reason for absence and if positive diagnosis for COVID-19 when calling-out on the attendance line so we are able to track illnesses. As always, if you have questions or concerns please contact Nurse Becky at 610-469-1403 or rkilfoy@ojrsd.net

Thank you for your diligence and understanding.

Also review our sick day guidelines. We do ask that you follow these guidelines. I will be calling you to follow up when you call your child out sick and if we have any suspicion that your child was sent to school while actively ill. I am available via phone and email if you would like to discuss if your child should come to school. Remember, your child is limites to only 10 days of absence in a school year. That includes extended illness as well as vacations/trips and medical appointments. After 10 days of absence, you may be required to provide a doctor's note for any additional absences. I am happy to offer education to both you and your child about illness and what we can do to make ourselves feel better while in school. If they are excluded for suspicion/testing for COVID-19 or a quarantine, theose days are counted seprately from these 10 days.

Stay healthy, stay apart, wear a mask and WASH YOUR HANDS!!!!