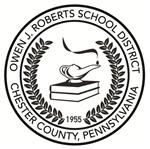 Michael L. Christian, Ed.D.
Superintendent of Schools
This link
will take you to the Owen J. Roberts School District Annual Report for the 2015-16 school year. It includes an overview of the District including academic achievement, program and individual school highlights as well as budget information.
We are very proud of our accomplishments this past school year. We look forward to continuing the development of our students and celebrating their successes this school year.
Please click here for the 2016-17 Superintendent's goals.
The Superintendent's annual performance evaluation for 2016-17 was completed on June 5, 2017 and the Owen J. Roberts Board of School Directors determined that Dr. Michael Christian satisfied the mutually agreed performance standards.