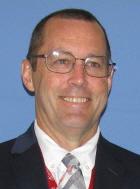 Phone: 610 469-5153
Email:
Degrees and Certifications:
Degrees and Certifications: Owen J. Roberts High School International Baccalaureate Career Program Coordinator since 2016 Owen J. Roberts Teacher, 2003-2018 Master's Degree in Physical Science, West Chester University Principal Certification, California University of Pennsylvania, 2016: Certifications: Secondary Earth and Space Science, Level II Principal K-12
Mr. William Richardson, JR.

Mr. William K. Richardson, Jr.

I am excited as we start our fifth year of the IBCP having just watched the third cohort graduate on June 11, 2021. It was truly exciting to see our students be able to walk across th stage in the stadium and receive thier diplomas while wearing their IB Stoles. This is my 20th year at Owen J. Roberts High School and my 4th year as the Supervisor of IB, Assessments and Activities. I spent last year as the Interim Principal and will be returning to the role of Assistant Principal and IB Coordinator. I spent the first 18 years of my teaching career teaching Applied Science, Earth Science, Engineering classes and AP Environmental Science. I am proud to have worked with our Special Education department to help develop the Emotional Support Educational Program in the High School. Prior to becoming a teacher, I was a Professional Geologist working to evaluate and clean up hazardous waste sites.

I am looking forward to continued work with the International Baccalaureate Program within the high school after seeing our first group of IB students graduate this year.

I hope to see you around the building in your classes, clubs and at events. If I can be of help to you, please contact me at wrichardson@ojrsd.net or phone (610-469-5153) or just find me in the main office.

Mr. William K. Richardson, Jr.