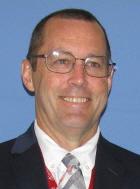 Phone: (610) 469-5140
Email:
Degrees and Certifications:
Degrees and Certifications: Owen J. Roberts High School International Baccalaureate Career Program Coordinator since 2016 Owen J. Roberts Teacher, 2003-2018 Master's Degree in Physical Science, West Chester University Principal Certification, California University of Pennsylvania, 2016: Certifications: Secondary Earth and Space Science, Level II Principal K-12
Mr.

William K. Richardson, Jr.

Mrs. Terrie Hafer, Secretary to the HS Principal

Email: thafer@ojrsd.net

Phone: (610) 469-5140

Mr. William K. Richardson, Jr.

As we move into the 2020-2021 school year, we are in new territory. Education will look different this year and it will be our job as high school administrators to make this work as smoothly as possible for students. I have been appointed as the Interim Principal of the high school. However, during this summer the administrative team of Dr. Sean Earley, Mrs. Caroline Slade, Dr. Randy Cuthbert (athletics) and Mr. Joe Milnes (Special Education) have been working hard to get school ready for our students to return, either in person or virtually. We will continue to work together as a team. With Dr. Earley's retirement on August 26, we welcome Mr. Eric Wentzel to the High School Administrative Team as an Interim Assistant Principal.

I am starting my 19th year at Owen J. Roberts High School and my 3rd year as an administrator in the high school. I spent the first 16 years of my teaching career teaching Applied Science, Earth Science, Engineering classes and AP Environmental Science. I am proud to have worked with our Special Education department to help develop the Emotional Support Educational Program in the high school. Prior to becoming a teacher, I was a Professional Geologist working to evaluate and clean up hazardous waste sites.

I am looking forward to working with our high school administrative team as we continue to provide opportunities for our students to reach their educational goals.

I look forward to seeing you around the building in your classes, clubs and at events. If I can be of help to you, please contact me at wrichardson@ojrsd.net or phone (610-469-5140) or just find me in the main office.

Mr. William K. Richardson, Jr.