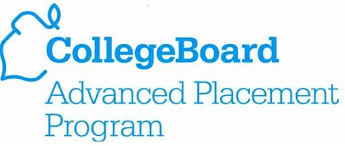 As a result of COVID-19 and many school closures, College Board has decided that no face-to-face Advanced Placement (AP) exams will occur for the 2019-2020 school year. Please click the link below to access College Board's announcement:

https://apcoronavirusupdates.collegeboard.org/students

Here are some quick highlights:

Students may cancel exams with no cancellation fees.
College Board is not accepting any new test registrations.
College Board is developing secure 45-minute online free-response exams for each course that students will complete at home.
You'll be able to take your exams on any device you have access to—computer, tablet, or smartphone. You'll also have the option to write your responses by hand and submit a photo.
The exam content will focus on what most schools were able to complete by early March.
Access AP course videos here: https://www.youtube.com/user/advancedplacement

Please be sure to review your AP courses on Canvas and continue to be in communication with your AP teacher(s).

*Attention Students*

Please review the 2020 AP Testing Guide and reference the Exam Day Checklist. Both of these documents contain important information that you should review in preparing for your AP exam. Some important notes:

double-check your contact information associated with your MyAP account (i.e. email, phone #, etc.)
create google docs (if applicable) ahead of time for your exams that have your AP ID# and initials at the top; this will save time one exam day and make sure you do not forget to do this important step!
make sure that certain add-on's are turned off (i.e. grammarly); if these are not disabled, you will not be able to access your test
double-check the exam day docs that you will need and print ahead of time
access the exam demo site (available on 5/4) and practice...hopefully the more familiar you are with this site, the less tech issues may arise one exam day

Check out our HELPFUL TIPS in prepping for Exam Day as well as College Board's Troubleshooting Tips page!!!
Make Up AP Exam Schedule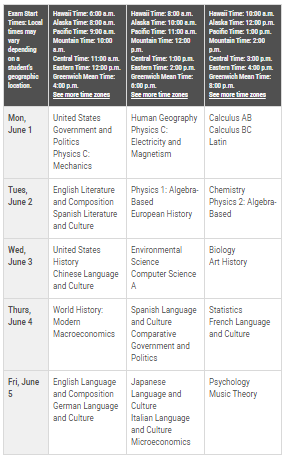 AP Documents
*Updated as of April 7, 2020. Please refer to this sheet for exam updates, cancellation information, and the AP exam update verification form.
Helpful AP Websites
Benefits of Taking AP Exams

Article discussing the benefits of completing an AP course and AP exams.

AP Students - Collegeboard

Displays helpful information regarding benefits of AP testing, important upcoming dates, credit and placement policies, and much more!